Amenities
Why Choose Arcadia Pace?
In addition to our caring and well-trained staff, Arcadia offers a unique set of amenities and services intended to support our resident's desire to live with purpose, dignity, and independence. Our community was designed with many special touches to support the varied lifestyle interests of our residents while also providing a safe and secure environment.
Below are just a few of the areas our residents and their families can enjoy that have earned Arcadia Communities a number of awards and recognitions.
Arcadia Senior Living Pace Community Spaces
Multi Purpose Room

Senior Friendly Fitness Gym

Coffee Bar

Social Lounge

Beauty Salon and Barber Shop

Landscaped Grounds and Inviting Pergolas

Restaurant Style Dining with Indoor and Outdoor Seating

Private Dining Room for Special Occasions with Friends and Family

Community Walking Paths and Pet Friendly Park

Complimentary Laundry Facilities on Each Floor

Multiple Seating Lounges and Porches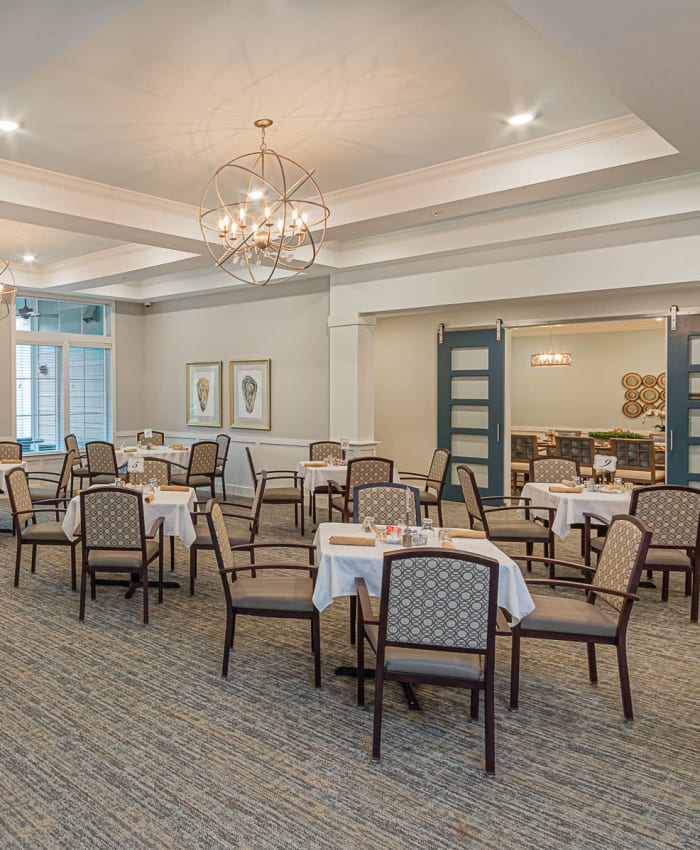 Additional Amenities
Heat lamp in every apartment bathroom. No more being cold after getting out of the shower!

Built to the most recent Codes and Standards.

Powerful generator with an emergency outlet and generator-powered light in each apartment.

Community Elevator powered by emergency generator.

The community is central to many amenities including:

7.2 miles to Santa Rosa Medical Center

3.7 miles to West Florida Medical Group

4 miles to US 90

10.5 miles to Interstate 10

9.6 miles to University of West Florida

3.1 miles from Benny Russell Park

4.9 Pace Pointe Shopping

25 miles to Pensacola

Wi-Fi internet access throughout the community.

Exceptionally wide and well-lit hallways.

Beautiful and immersive landscaping.

Modern alert system, with the uses of pendants and pull cords in multiple locations, including apartment bedside, bathrooms and common areas.

Ceiling lights in each apartment – not just lamps!

Large televisions in common areas.

Standard-height peep holes in each apartment door.

Closet doors in apartments, with pocket doors in large senior friendly bathrooms.